In North America, the use of lead-based paint began in the Colonial Period, and it was a common feature of homes and businesses for many generations. While its decline began in the 1920's, lead-based paint was still widely used until the 1970's. Because of the health risks associated with lead paints, it is important to understand the risks and procedures for commercial painting.
Pacific Western is a Lead-Safe Certified painting contractor by the Environmental Protection Agency. You can trust us as your source of information and remediation in situations where your commercial painting project may involve lead paint.
How Do I Know If My Building Has Lead Paint?
Test kits are available for determining if lead is present in a home, store, hotel or office. However, due to the prevalence of lead-based paints in previous generations, it is reasonable to assume that if your building was constructed before 1978, it probably has lead paint in it.
What Are the Dangers of Lead-Based Paint?
The primary dangers of lead-poisoning involve physical and neurological problems, including learning and behavior disorders. It can also induce kidney damage, stunted growth and possibly some forms of cancer.
How Does Lead Paint Lead to Lead Poisoning?
The main way that lead causes health problems is when it enters the digestive system, particularly for children. This typically happens when children find chips or flakes of old paint and eat them, or when dust from old paint is present in their environment and they get it into their mouths.
What to Do about Lead Paint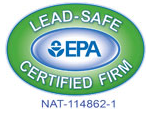 When lead is (or might be) present in a structure, it is vital that any commercial painting activity be completed by an EPA certified lead-safe contractor. A contractor with this certification will have the equipment and expertise to safely contain all lead particles and prevent any contamination. Lead paint abatement or remediation can be done in a variety of forms, based on the needs of the specific project.
Lead-Safe Painting Contractor for San Diego County
If you need an EPA lead-safe certified commercial painting contractor, Pacific Western is the place to start. We take health and safety very seriously, for the sake of our commercial painting clients and for our painters. We can safely work in your facility, even if it has lead paint in it. We perform commercial painting for offices, hotels, apartments, HOA's, condos, schools, historic homes, public buildings and much more.