Prominently featured on Ivanhoe Avenue is the Keller Williams building, a great example of our office painting services. This La Jolla office building has an eye-catching three story architectural design, and hosts various businesses, including a dental office and Keller Williams Realty.
Office painting is an important part of Pacific Western's commercial painting offerings. The Keller Williams office building demonstrates several of the priorities we have when we paint offices.
Office Painting Priorities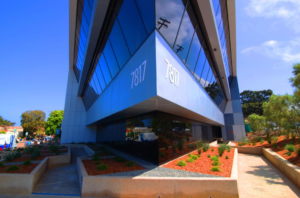 Spectacular appearance: Obviously, the most prominent goal in a commercial painting project is the visual results. As you can see, we strive to provide uniform color coverage, clean lines and true colors. You want your office to be a pleasant work space for your employees, and an attractive environment for your clients. Our exterior and interior painting services deliver exactly that!
Non-painted surface protection: It doesn't matter how great your painted surfaces look if you also leave drips, streaks and overspray on the surrounding surfaces. On this office painting project, we made sure to carefully protect the many windows, as well as the landscaping and sidewalks.
Safety: For the sake of our painters, and for the sake of your employees and clients, safety is of the utmost importance. We take care to preserve a tidy work area, and we adhere to strict safety practices in all our office painting activities. From fall prevention to breathing protection, we'll take care of everyone in the vicinity.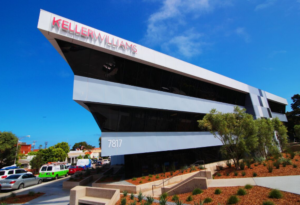 Schedule: Your office tenants have clients to serve and tasks to accomplish, and the last thing you want is an unreliable painter who will disrupt or delay business. Don't worry — that painter isn't Pacific Western! We make sure to understand your business requirements and stage our project in a way that causes a minimal impact on normal operations.
Commercial Office Painting in La Jolla and Beyond
Pacific Western offers a full array of commercial painting services for San Diego County, including office painting, factory painting, HOA painting, condo painting, school painting, church painting, and much more. Our painters are reliable, respectable and highly-skilled. Working in La Jolla, Escondido, San Marcos, Oceanside, Carlsbad, San Diego, Chula Vista, El Cajon and more, we are ready to serve you!