Painting an HOA is a very large job, requiring excellent communication and management, as well as well-equipped, experienced crews. Fortunately, that is exactly what we have developed over the years at Pacific Western Painting! We were happy to put all of our skills and training to good use when we painted the HOA known as The Heights at Carmel Valley. This gated San Diego HOA boasts a pool, spa, fitness center, clubhouse and much more, all in a peaceful, resort-like environment.
Painting The Heights at Carmel Valley was a rewarding challenge, as it involved several stages and unique factors.
Painting Multi-Unit Housing
Our commercial painting services for The Heights began with a professional color consultation. This service helps our HOA clients to select the best combination of colors to keep the community looking fresh, up-to-date and attractive. We selected a boldly warm, earthy brown that nicely sets off the shutters and roof tiles, plus a creamy off-white as a classy contrast.
Since this San Diego community has two floors, the painting required the use of high-reach boom lifts. In addition to lift painting, we brought in our normal contingent of ladders, compressors, brushes, rollers and cables. Don't get the wrong picture in your mind, however: we value a tidy, safe work environment!
We began the painting project with a full coat of primer. This helps to cover previous paint colors and provides a great surface for the new paint to adhere to. Since primer is cheaper than doing two coats of the final color, it is an economical choice for a supplemental coating. A good prime coat helps a commercial exterior paint job last much longer and keep truer colors in the San Diego sunshine!
When it comes to your exterior topcoat, there's no sense skimping on the materials. We applied a coat of premium paint to all the exterior surfaces, enhancing the appeal of this delightful San Diego HOA.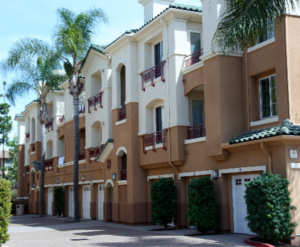 By the time we were finished, we had painted metal rails, wood trim, stucco siding and more, renewing the look and feel of The Heights at Carmel Valley. When it was through, it was a joy to step back and take a look. We didn't make it beautiful – it was beautiful before we got there – but we were able to enrich and increase its beauty for the happy residents!
San Diego HOA Painting
If you are the property manager for an HOA, an apartment building, a condo or a 55+ community, we would love the chance to work with you. We offer a full line of commercial painting services, including wallpaper, wood repair, welding and other helpful items. We serve Del Mar, Carmel Valley, Costa del Sol, Sorrento Valley, San Marcos, Escondido and the whole San Diego region. Give us a call to start discussing your upcoming projects!