For those seeking the tranquil lifestyle and cheerful ambiance of a retirement community, the physical environment is an important concern. That's why were were delighted to be chosen to work with Chateau Lake San Marcos, a resort-style retirement community, when they were freshening up their exterior painting.
A beautiful campus boasting wonderful amenities and spectacular landscaping, the Chateau San Marcos is a non-profit Homeowner's Association. Performing the exterior painting for this retirement community required a number of special considerations.
Painting Retirement Communities
When performing commercial painting for a retirement community, especially one that offers assisted living services, we understand that "non-disruptive" is the vital keyword. Here are a few of the factors we kept in mind throughout the project:
Noise level – No one wants to be woken up by noisy compressors, loud painters or obnoxious music. We always work hard to give consideration to our customers in this regard, but especially when painting for a 55+ community.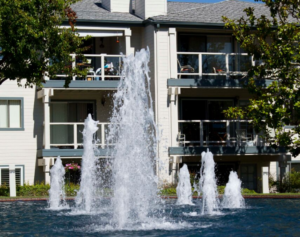 Tidy work environment – Safety is our primary concern when painting a retirement community. We can't leave hoses or cords running across walkways where they could be a tripping hazard, and ladder safety is paramount. Even besides the safety factors, a tidy work area will not detract from the beautiful atmosphere of the community.
Professionalism – Our painters and staff understand the importance of professionalism in commercial painting. However, when we are working in such elegant surroundings, we put extra attentiveness into this aspect. A resort-style retirement community like Chateau Lake San Marcos is simply not the place for sloppy manners. The HOA staff prides itself in being accommodating, attentive and professional, and we expect no less of our commercial painters!
Beauty – Our aim is to preserve and enhance the beauty of any commercial facility we paint, but that is especially the case in an environment as carefully crafted as this one. Clean lines, even finishes, sound surfaces… we give utmost care to each detail!
Commercial Painting for San Diego County
Pacific Western Painting is a well-respected commercial painting company, serving San Marcos and San Diego County. We paint retirement communities, nursing care facilities, hospitals, HOA's, condos, apartments and much more. Whatever it is that you need painted, trust Pacific Western to have the solutions!