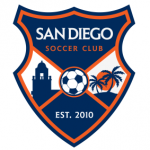 The San Diego Soccer Club hosts its 4th annual "You'll Never Walk Alone" 5K Run/Walk in memory of Karina Fares. The fundraiser aims to raise money for struggling San Diego families within the soccer club's 80 teams.
In past years money has been raised for families that have lost loved ones, suffered work-related disabilities, been buried in medical bills and many others.
PacWest Painting, Inc is a proud sponsor of this years YNWA 5K and continues to be involved in San Diego community events, charities, and fundraisers.
"The SDSC You'll Never Walk Alone 5k in Memory of Karina Fares was created in 2013 as a fun walk/run to raise funds for families in need within our club."
---
For more information, please visit the San Diego Soccer Club's website:
"You'll Never Walk Alone" Fundraiser