Apartment painting may seem like a repetitive, cookie-cutter, one-size-fits-all kind of service. In reality, however, each project is unique, and within each project there is a wide variety of situations that require special attention. For our commercial painters here at Pacific Western, the Sienna Hills HOA in Escondido was a great chance to demonstrate this.
With 105 condominium units in a luxurious setting, the Sienna Hills community offers their residents a beautiful place to live. When the previous paint coatings were starting to age and some paint maintenance was needed, this Escondido HOA called us to do the job.
Four Steps for Exterior Commercial Painting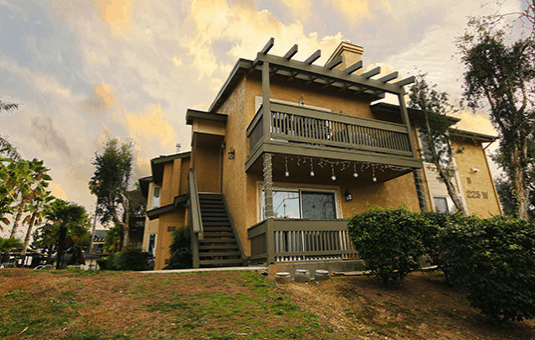 On a typical exterior painting project in Escondido and the San Diego area, there are four stages to our commercial painting process:
Surface preparation: To get the surfaces ready to paint, we need to remove anything that will prevent new paint from adhering properly or looking fantastic. Peeling paint, mildew, dirt and other contaminants can be removed by scraping, brushing and/or power washing.
Stucco repair: Hairline cracks can be sealed with specialized caulk, while larger damage requires stucco patching.
Priming: Any places where paint has been removed, where stucco has been patched, or where a bare substrate has been exposed will need a coat of quality primer so that the new paint will bond properly.
Exterior painting: Using a combination of spraying, rolling and brushing, we apply a beautiful, uniform coat of premium paint.
Why Choose Pacific Western?
Pacific Western Painting Company is trusted by business owners and property managers to give reliable commercial painting results. Here is what you can depend on:
Clear communication
Efficient work
Attractive results
Adherence to schedule
Safe, tidy jobsite
Professional crew
Commercial Painters for San Diego County
Whether you are a property manager, an HOA president or a business owner, keep Pacific Western in mind for your commercial painting projects. We paint condos, HOA's, apartments, hotels, retails stores, factories, and much more. We provide interior and exterior painting services, and we have staff waiting to take your call today!
Pacific Western provides commercial painting services to Escondido, San Marcos, Oceanside, Carlsbad, Encinitas, Solana Beach, Rancho Santa Fe, Poway, El Cajon, and all of San Diego County.