Here at Pacific Western, condo painting is one of our specialties. When we paint multi-unit housing, there is a huge variety of services we perform.  This project, the Avalon at Eagles' Crossing in Oceanside, CA, relied heavily on our restoration techniques. We worked with iron, stucco and wood to repair and repaint the balcony railing, with very pleasing results!
We'll give you a quick tour of some of the highlights of this Oceanside HOA painting project:
Rotten Wood Repair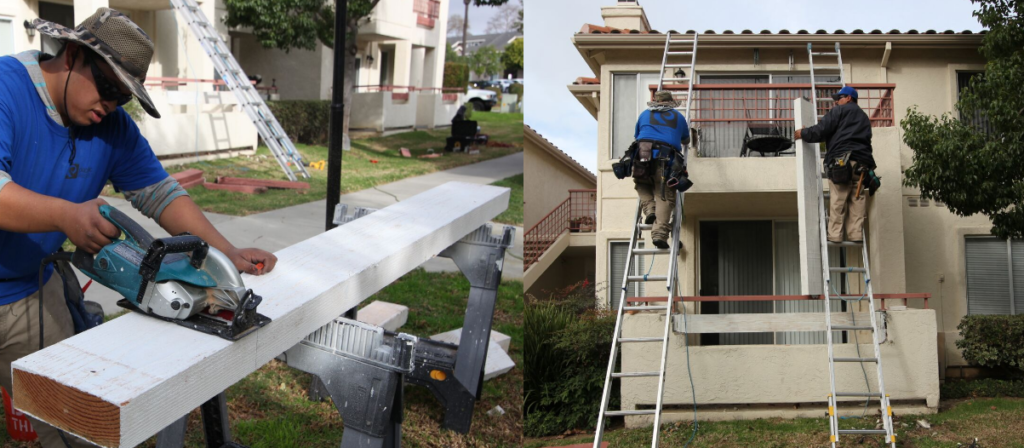 Painters don't just paint! When wood is in good condition, we just need to clean and prime it before the new paint goes on. However, sometimes our HOA painting involves carpentry as well! For these condos, some of the wood beams on the deck railings were rotting. Sometimes rotten wood can be repaired with high-quality wood filler, but in more severe cases, we needed to replace the beams entirely. Our crews are always ready for some fun with rotten wood repair!
Stucco Repair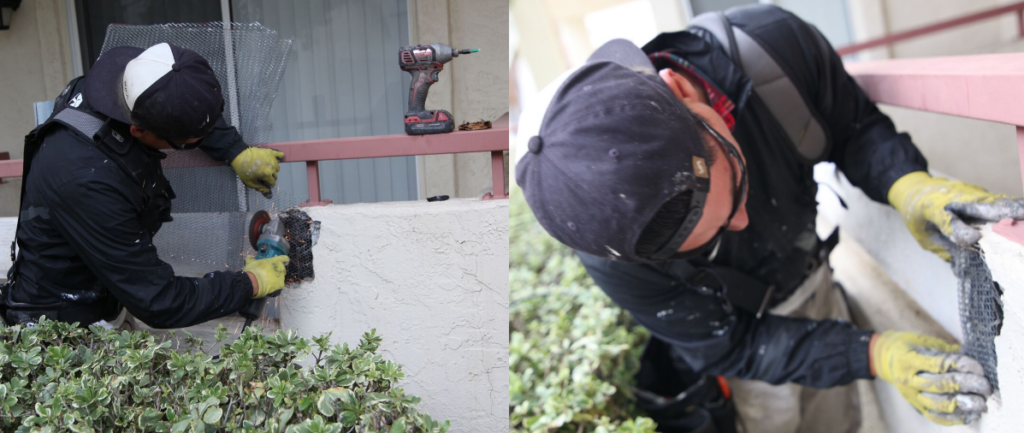 Another area where our commercial painters need to be proficient is in stucco repair. This is often needed when we paint condos and HOA's here in the San Diego region, due to how common stucco is as an exterior surface. Sometimes we just need to perform minor maintenance, such as caulking cracked stucco with elastomeric caulk. However, stucco repair can also be a much bigger job, involving repairs to the subsurface, reapplication of stucco, texturing, priming and painting.
Metal Painting

Painting metal or wrought iron railings takes a different set of skills and equipment than other kinds of commercial painting. For this set of Oceanside condos, the metal railings are not only a safety fixture; they are also one of the most prominent decorative features. As you can see, to paint this metal railing we needed to thoroughly protect the stucco beneath, and also create a paper backing to prevent overspray. We used an air-powered spray painting unit, first painting from one side, then switching all the protective paper to the other side and repeating the process.
General Exterior Painting
There are always many details to consider during commercial painting, from trim to windows to doors and more. We thoroughly train our painters so they are sure to deliver exceptional results on every part of a painting project, whether it is an apartment, an HOA or a condo!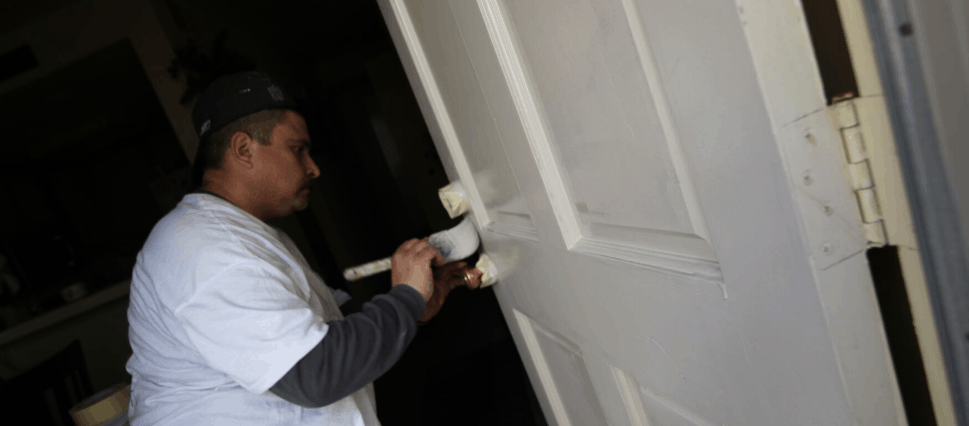 Pacific Western is a reputable, well-established commercial painting contractor in San Diego County. We paint HOA's, condos, apartments, hotels, retail stores, restaurants, offices, medical facilities, and much more! Give us a call or contact us online, and we'll be delighted to set up a meeting to discuss your commercial painting project.