Some commercial painting projects are massive endeavors, requiring complex logistics and an extended timeline. However, at Pacific Western, we also provide painting services for HOA's on a smaller scale. One good example of this was when we painted the Montemar Condo HOA, in Carmel Valley, CA. Rather than a full repainting, the HOA hired us to paint some of the exterior features that were most in need of renewal.
HOA Painting in Carmel Valley, San Diego
Spot Priming: Our painting project began with a careful examination of the current woodwork, looking for any areas where the paint had begun to fail, or where bare wood was showing. Any of these trouble spots were spot-primed, which halts the deterioration and creates an effective layer which the topcoat can adhere to.
Top Coating: We know from experience that top-quality paints are worth the investment. Though they cost more initially, they consistently out-perform cheaper paints in fade-resistance and general durability. That's why we used premium exterior paint for all our work on the Montemar HOA in Carmel Valley.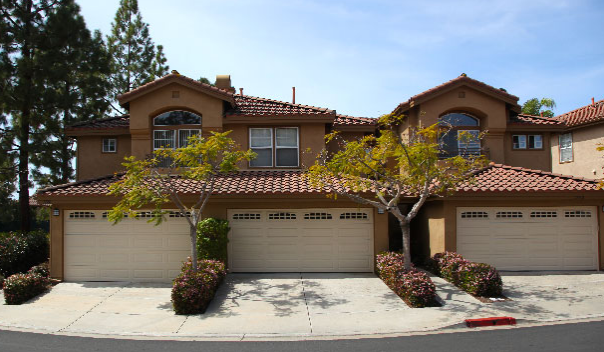 We only applied one coat of paint on this project. In many circumstances we would recommend two, but there are some situations where one coat is sufficient. Since the prior coat was not badly deteriorated, and since the new paint was not a drastic color change, we were able to provide excellent results with only one coat, saving money on the painting project for the condo HOA.
Edges and doors: The main focus of this condo painting project was the trim, specifically the eaves and fascia. We also painted the front doors of the units, though due to the architectural design, you can't see them in our photos.
Commercial Painting Services for San Diego, CA
As a professional painting contractor, Pacific Western offers commercial painting services for HOA's, condos, apartments, hospitals, schools, retail stores, restaurants, corporate offices and more. Based in San Marcos, San Diego County, we serve Carlsbad, Escondido, Oceanside, Carmel Valley, La Jolla and the whole greater San Diego region. Contact us if you have any questions about commercial painting, or to schedule an estimate.