With all of the different kinds of commercial facilities we paint, gated communities and HOA's are among the most common. One such Homeowner's Association that we had the privilege of painting was the Encinitas Village HOA in San Diego County. This comfortable, attractive neighborhood received an extensive makeover during our multi-week project.
While painting condos and HOA's is a frequent activity for us, there were two factors that made this painting project stand out: the wood siding and the large scope of the project.
Painting Condos with Wood Siding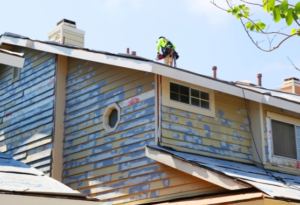 The majority of condos and townhomes that we paint have stucco siding, so it was a nice change of pace for our crews to be working with wood on this extensive painting project. The first step involved repairing damaged wood, which required removing the rotted or broken boards. Before new boards were installed, we primed them on all six sides (front & back, top & bottom, left & right cut ends). Many people wonder why this is necessary, since most of these surfaces will not be seen. The answer is that occasional moisture can find a way between and behind just about any type of siding, and having every surface primed prevents that moisture from entering the wood and beginning the rot process.
Once the affected exterior wood was replaced, we repainted the entire exterior of the townhomes with top-quality paint. By using two coats, and by using a premium paint, we ensured that the Encinitas Village HOA would resist the coastal elements and maintain its beauty for years to come!
Another aspect of this commercial painting project was repainting the garage doors and wooden fences. The crisp white combined with the bright blue really make these homes shine!
Commercial Painting and Other Renovations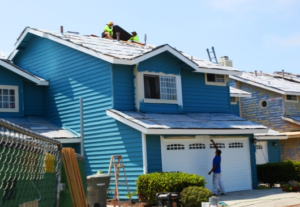 Besides the exterior painting that we performed, Encinitas Village also required a new roof, new gutters and downspouts, new trim on the skylights, and interior painting on some drywall surfaces. With all of this work being performed at once, this project required careful logistics, coordination and communication.
One important aspect of this job was communicating with the residents of the HOA to make sure they were ready for the project. We were careful to notify them two weeks in advance, and again 48 hours in advance, to ensure they would have minimal inconvenience, and that their vehicles and porch furniture would be out of the way of any potential harm.
In addition, we had to organize the work and the materials in such a way that no single aspect of the project would have a negative impact on any other. With cautious planning and courteous working, we were able to pull it off!
HOA and Condo Painting for San Diego
Whether you live in a beach community or farther inland, Pacific Western Painting is ready to serve you with all kinds of commercial painting services for your gated community, HOA, townhouse, condo or apartment. We have all of the equipment, experience and expertise to make sure your painting project is completed in a timely way and with excellent results. Contact us today to begin a conversation about your HOA painting project! PacWest Painting serves Encinitas, San Marcos, Carlsbad, Oceanside, Escondido, La Jolla and the whole San Diego region.