What makes a resort upscale? Multiple swimming pools? A water park? Two championship golf courses? A top-of-the-line spa? A kids' club? A vast array of rooms, suites and villas? By whatever standard you judge luxury, La Costa Resort & Spa in Carlsbad, CA, is an upscale resort destination! It was an honor to be chosen as the commercial painting contractor for this Southern California resort, which obviously demanded the highest level of skill and customer service.
So, what made this resort painting project unique? How do you offer painting services to a resort destination without disrupting the luxury experience of the clients? If we could make ourselves invisible and paint the whole place instantly, we would! Not having superpowers, however, we had to make do with the old-fashioned qualities of consideration and craftsmanship!
Painting a Luxury Resort in Southern California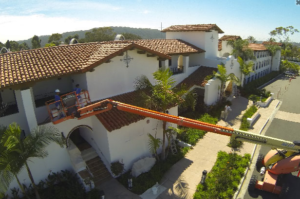 One of the keys to painting the La Costa Resort with minimal disruption was using our aerial painting equipment. No, we weren't doing fly-by's in a crop duster (that wouldn't be subtle, would it)! We used our boom lifts to safely and quickly move our painters across the elegant exterior of the resort. While we also used ladders, this allowed us to make better use of time, and we were able to put less stress on the landscaping.
All of our commercial painting crew members are regularly and thoroughly trained in the best industry practices, and we emphasize courtesy and safety in all of our interactions. Whether we are painting for an HOA or a high-end resort, we always make sure to maintain a tidy, safe work environment. We limit our noise and make sure to treat your guests or residents with the utmost respect.
This specific resort painting project required several stages. We began with a thorough pressure cleaning to make sure there were no surface contaminants that would prevent maximum paint performance. Next, we provided stucco patching in areas that had been damaged. We did not need to prime the whole exterior surface, but we did prime areas where stucco was patched or the previous coating of paint was more deteriorated. Finally, we applied two coats of superior-grade exterior paint, ensuring that the La Costa Resort & Spa will continue to shine for years to come!
Commercial Painter for Resorts and Theme Parks
If you are looking for a commercial painting contractor with a proven track record of excellence, Pacific Western is the company to call. We have extensive experience working in a wide range of upscale commercial projects, from resorts to condominiums to hotels. We provide interior and exterior painting services for resorts, theme parks, HOA's, apartments, hotels, restaurants, retail stores, corporate offices and much more.