As a professional painting contractor in San Diego, Pacific Western has had the opportunity to provide quality painting services in a wide variety of commercial and industrial settings, including medical facilities. Painting healthcare facilities requires a unique set of skills. Commercial painting companies who take on the painting of a medical building must pay careful attention to detail, have a knowledge of relevant standards and regulations, and be able to work on a tight schedule to accommodate the specific needs of the client.
One of the medical facilities we have had the pleasure of painting is Tri-City Medical Park. This medical center is located in Oceanside city of North County San Diego. Founded in 1961, the Tri-City Medical Park has over 700 physicians practicing in 60 specialties. The medical center is a full-service, acute-care hospital with advanced clinical institutes for cardiovascular and orthopedic care. When this medical center's facility needed a commercial painting contractor they could trust, they turned to Pacific Western.
Medical Facility Painting: The Process
1. Preparing the Surfaces
A beautiful, lasting painting job always begins with proper preparation of surfaces and protection of surrounding areas. A thorough inspection of all surfaces was made to determine the amount of repairs and priming which would need to be made prior to painting. The medical center's landscaping and shrubbery were protected from paint spills or spattering.
2. Power Washing
Next, the medical facility needed to be power washed to remove all contaminants and ensure maximum adhesion for the paint films. Pressure washing surfaces prior to painting helps to ensure a long-lasting paint job.
3. Stucco Patching & Repair
As with many commercial buildings in the San Diego area, the Tri-City Medical facility had stucco surfaces which were in need of repair. As an experienced stucco repair and painting contractor, Pacific Western was able restore the damaged stucco to excellent condition.
4. Priming of Exterior Surfaces
When surfaces had been sufficiently cleaned and prepared, the priming process was ready to begin. Full priming of the facility was not necessary with this job. Instead, our skilled professionals spot-primed where needed, applying a premium exterior primmer to all necessary surfaces.
5. Application of Exterior Paint
Once the primed areas had been allowed sufficient time to dry and cure, the painting process was begun. Two coats of premium exterior paint were applied over a variety of surfaces including stucco, wood, brick, doors and metals. With a talented crew of experts in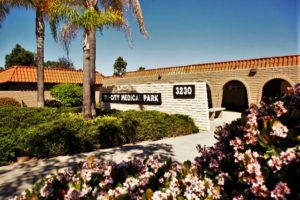 commercial painting, Pacific Western was able to create a beautiful result and restore the Tri-City Medical building to superb condition.
Looking for Commercial Painting Services in San Diego?
Look no further! Pacific Western is a well-loved and trusted commercial painting contractor which has provided generations of quality service in the San Diego area. Contact us today for a FREE estimate and we would be glad to help you get started on your project right away.