As a multi-generational commercial painting contractor in San Diego, we know that hotel painting is an art of its own. Whether it's painting for a hotel chain with a specific, preset color scheme or a luxury hotel with a unique layout and style, Pacific Western is the painting company for the job.
 Interior Painting Services
With unusual needs (such as painting or refinishing of restaurants, bars, shops etc.) interior painting for hotels and bed and breakfasts is a particular challenge that requires versatility, skill, and experience.
Whether you need a careful overview the condition of your facility's interior, professional color consultation, advise on specialty or Low VOC products, Pacific Western is able to handle your concerns and do the job right.
We are also aware that hotels and bed and breakfasts need work to be completed on a tight schedule with a tidy work space, in order to minimize disruption to business.
Exterior Painting Services
For many hotel chains, exterior colors double as brand symbols and require continuity, while luxury hotels have more room for individual expression of style. With the latest equipment and exterior products, Pacific Western is able to produce a beautiful exterior paint job which will protect your facility for years to come.
Historic Building Painting and Restoration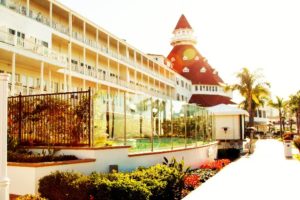 For historic hotels in San Diego, Pacific Western is able to safely revitalize and restore old materials while staying true to the specific historic style and colors of the building.
One example of a historic hotel painting project which we have conducted is the Hotel Del Coronado, located in Coronado Island, San Diego. This renowned hotel opened in 1888 and is now both a California and National Historic Landmark. This project involved preparatory work, power washing, full priming, wood patching, and two coats of paint. Because of the scale and unique architecture of the hotel facilities, this job also required high rise painting.
Resort & Spa Painting in La Costa, San Diego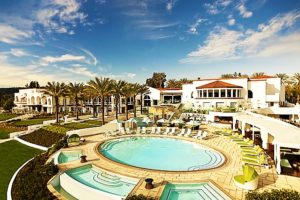 Another luxury hotel which we have painted is the La Costa Resort and Spa in La Costa, San Diego. This award-winning hotel and spa wellness center has over 600 rooms, two champion golf courses, eight swimming pools, as well as 17 tennis courts. The hotel facilities were in need of surface preparation, pressure washing, spot priming, stucco repair, and two coats of paint.
If you are looking for hotel painting in San Diego, look no further! Contact us today for a FREE ESTIMATE and we would be glad to serve you.